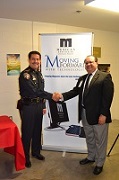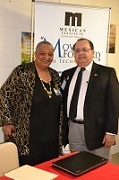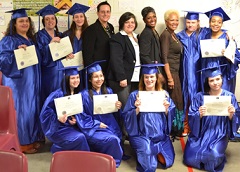 Mentoring Moms Graduation
This picture shows Sheriff Adrián García and MIGH President
Mr. Carlos J. López who were very happy at the graduation
ceremony of the first group of female students because of the
very good results achieved. HCSO and MIGH are indeed
making history with this program, the first of its kind in the
country.
On this picture Ms. Ella A. Duncan, M Ed. Inmate Education
Special Operations and Crime Prevention Bureau of the Harris
County Sheriff Office in Houston with our President and
Executive Director Mr. Carlos J. López. Ms. Duncan has
been a very important person in the implementation phase
of the program proposed by MIGH and authorized by Sheriff
Adrián García.
MIGH instructor for this program Ms. Ligia
Gramajo, a UH Master's Graduate in charge
of MIGH's IT Department whose
inclination to help others inspired her
to offer herself to be the first instructor for
this new program which was taught in
English.
On this picture with her (back row,
center) students and members of the
executive team at HCSO whose close participation in the implementation phase is contributing to the success of the project, the first of its nature in the U.S.